Grim Key Card: Credit Card Sized Lock Pick & Escape System
By NinjaSpy
In Locksmithing
Nov 8th
990 Views
Meet the Grim Key Card: a credit card sized lock pick & escape system that you can use anywhere to get unstuck. It comes with tension wrench, lockpicks, handcuff key, file/saw, and shim tool. These guys also have the Grim Key Dog Tag for people who need a wearable option.
More gadgets like this ➡️
here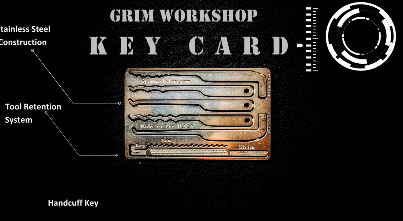 These tools are made of stainless steel. They are compact and lightweight. You can find out more here.
People who visited this gadget also visited:
Related Gadgets