Grim Key Card: Credit Card Sized Lock Pick & Escape System
By NinjaSpy
In Locksmithing
Nov 8th
836 Views
Meet the Grim Key Card: a credit card sized lock pick & escape system that you can use anywhere to get unstuck. It comes with tension wrench, lockpicks, handcuff key, file/saw, and shim tool. These guys also have the Grim Key Dog Tag for people who need a wearable option.
You may also want to see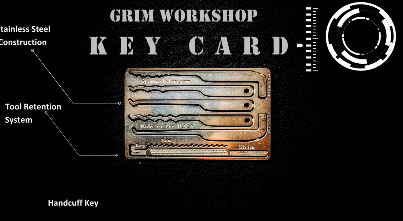 These tools are made of stainless steel. They are compact and lightweight. You can find out more here.
People who visited this gadget also visited:
Related Gadgets